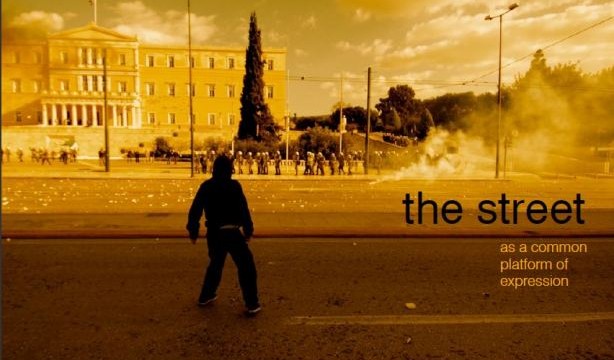 Mapping the Commons of Athens
Inventing Alternatives: Commons as Exodus from Disaster Capitalism
[commons]
The recurrent concept of the commons elaborates on the same idea, that is, that in nowadays world  the production of wealth and social life are heavily dependent on communication, cooperation, affects and collective creativity. The commons would be, then, those milieux of shared resources, that are generated by the participation of the many and multiple, which constitute, some would say, the essential productive fabric of the 21st Century metroplis. And then, if we make this connection between commons and production, we have to think of political economy; power, rents and conflict.
[mapping]
However, due to our tradition of the private and the public, of property and individualism, the commons are still hard to see for our late 20th Century eyes. We propose, therefore, a search for the commons; a search that will take the form of a mapping process. We understand mapping, of course, as proposed by Deleuze and Guattari, and as artists and social astivists have been using it during the last decade, as a performance that can become a reflection, a work of art, a social action.
[a new Athens?]
Athens, a global posfordist metropolis, in the middle of the economic crisis, periodically struck by social rebellions, was the object of the mapping project. A group of more than 30 architects, activists, artists and filmmakers worked for more than a week developin collaborative mapping strategies, audiovisual languagues, using free software participatory wiki-mapping tools. We proposed the hypothesis that a new [view of the] city will come out of the process, one where the many and multiple, often struggling against the state and capital, are continously, and exuberantly, supporting and producing the commonwealth of its social life.
[workshop]
This view of the city has taken the form of an interactive video-cartography, an overhead route on the metropolis and the wealth of its various commons: from squatted and self-managed parks in the heart of the city to digital platforms for the sharing and upcycling of objects; from anger and its expression on the streets to the thousand wireless network nodes open in the city, from the critical mass of cyclists demmanding roads for people not cars to the language as main common, from the free software and P2P to the parties demand the ludic use of the streets, from the animals as fellow humans to graffiti as artistic expression in the common canvas that is the city:

http://meipi.org/mappingthecommons
Automatic full screen version of the videocartography.
COMMON: Free education

University protests take place in order to protect the common of public education. The entry of entrepreneurial rules in education degrades the role of the university as a free research center. Students and professors through assemblies decide their actions which include practices like universities squats and manifestations. The School of Architecture in particular had organized a happening in Syntagma square in order to inform the people of this major common being in state.
COMMON: Anger

Can anger be a common? Like care and love can be considered commons. In the Athens of riots, the Athens after December 2008, anger and rage brought part of the multitude together for better or for worse. Whose side are you on? Do you know what comes next?
COMMON: Public transportation

Since 2008, the unified ticket for all the means of public transport [bus, metro, tube, tram line] was implemented also in Athens. After validating a ticket passengers are able to travel within the entire transportation network, additionally having the option to change means within one and a half hour. Yet this convenient measure was combined with an increase of the ticket value. Only a few days after the operation of this new way of moving in the city thousands of e-mails were sent and received so as to induce people to leave their 'used' tickets [the ones which are still valid for some time] next to the validation machines or in other spots accessible by other passengers, who would not have to buy a new ticket. Ticket crossing is considered to be an illegal action…
COMMON: Free information and media exchange

Intellectual property forms a primary means for enclosing common knowledge production. Through IP, knowledge is commodified and then transmitted through controlled means of distribution. P2p file sharing is a practice through which knowledge production and its distribution channels are re-appropriated for the commons.
COMMON: Fair and small scale production of goods

The commons are not free of commercialization. Through the production of the commons, though, social relations between consumers and producers can be transformed in a mutually beneficial and non hierarchical manner. There are many different ways in which commercial and anti-commercial practices are being juxtaposed in the commons:
COMMON: Street Party

WHAT STREET PARTY? is an open, Athens-based, guerilla, non-profit, wiki collective. The collective is interested into Guerilla street-parties as an action of public space reclaiming, reunion, expression, creation, communication, experimentation, music vibration, body vitalization. During these parties, a big dancing crowd establishes a route in the city, stops in predefined spots and interacts with the citizens in an effort to regain the city space.
COMMON: Urban Safety

The brutal murder of December 6th 2008 caused an unprecedented explosion of rage. Two years later, the streets of Athens became a common platform of expression for thousands of citizens.
COMMON: Streffi Hill

Strefi hill is located in Exarchia and belongs to the municipality of Athens. Once it was called Anchesmos and was private property of a family with the name Strefi. For a lot of years, during 19th and 20th century, a quarry was operating on the hill. Since it closed down, trees were planted in the area and in 1963 the Strefi family decided to donate the hill to the municipality of Athens. Currently there is a small open air theatre, a basketball court, a playground and two small canteens on the hill. The place is used for recreation, gatherings and open free cultural events. The trees and greenery and also the several spots from which one can enjoy views of the city, also make the place worth a visit. The residents of Exarchia take care of the hill by organising cleaning shifts since the municipality does not contribute a lot to the maintenance of the place.
COMMON: Quality of urban life

The constantly uprising problems of the metropolis, in connection with the inability of local authorities to manage the emerging issues on the local scale, contribute to the creation of self-organized multitudes. Those are constituted of multiple singularities, formulating claims, which are common among all the members, regardless, any political or personal beliefs. The major venture is the lack of open- public spaces.
COMMON: In between spaces

Can be considered every area where two different environments collide, two different situations. The in-between is a border which tends to be an area, an interface of action where its contents react, penetrate each other giving birth to a space of transformation and interaction, tends to become a common space by its use. The typical examples of in-between spaces in Athens are 1.The arcade of the greek polykatoikia a space between the public and the private, common space and the opposite 2.The void akalyptos inside a building square. It is an in between space as something totally common and private.
COMMON: Transnational spaces

These days are ours, too is a text-event that captures the Commons that Athens became for a short period of time during the December revolts of 2008. It was written by a group of Albanian migrants who argued that the spontaneous involvement in the uprising challenged many long lasting practices of racism and exclusion.
English text: http://www.occupiedlondon.org/blog/2008/12/15/these-days-are-ours-too/
COMMON: Animals living freely

Animals and humans as companions. Prior to 2004, Athens was a common space for animals and humans.There were many stray animals that lived all around the city without human masters or liberated from relations of bondage. Stray animals and humans often lived in a relationship of companionship, offering to each other communication, food, shelter, affection and protection.
COMMON: Free software

Α large community of users and developers who work for continuous improvement of Free Libre Open Source Software FLOSS (software that anyone can freely use, copy, distribute and modify according to their needs)sharing knowledge and work. The commonity contributes thus to the production and the expansion of the commons.
COMMON: Cycling friendly city

In a city that offers priority to the automobile, a group of citizens shares a common goal: to introduce the bicycle in the Athenians.
COMMON: Exterior surfaces as communication

Graffiti is an activity that potentially redefines the uses and character of private or public exterior surfaces. Through the practice of graffiti walls, trains, buses, derelicts, public signs lose their private or public character and constitute an open, common canvas for the production of visual works.
COMMON: Wireless metropolitan network

Started in 2002 in Athens Greece, Athens Wireless Metropolitan Network (AWMN) is a grassroots wireless community, taking advantage of new, state of the art wireless technologies, to connect people and services. The network is comprised of 1120 backbone nodes (as of Aug, 2010) and more than 2900 client computers connect to it. More than 9,000 people have stated their intention to join AWMN in the near future.[1] There is also an association-club named awmn.
COMMON: Memory

Time marks common space. Collective memory is a common. A cartography of past commons exists in parallel with present and future commons. Past experiences and events shape the ways in which we move in the city and invest certain spots with symbolic meanings.>> The video " common memory " is based on short interviews regarding the memories of the revolt at December 2008 in Athens and what people expect now from the future. Realisation and editing Maya Bontzou 2010.
COMMON: Navarinou Park
http://www.youtube.com/watch?v=UDXRpAspGDk
The Navarinou Park, also known as the parking park is a free self-managed space in Exarcheia – an area which is a centre of social movements and alternative cultural practices since the 1970s. The ground actually belongs to TEE, which first was to host its offices, later it was to become a square as part of an exchange with the Municipality of Athens, and finally it turned out to become an open air parking space since 1990. In 2008 the lease was terminated and the issue of its construction was raised provoking reactions by local groups. On the 7th of March 2009 a multitude of people (including groups and individuals) responded to a digital call for collective action and occupied the space demanding the transformation of the parking into a park. Guerilla gardening started right away. The park has become a self-organised, anti-hierarchical and anti-commercial space with an open assembly. The park is actually a place of gathering, creation, emancipation, gaming and resistance. It aims to become a park beyond profit and property, functioning as a space of play,assembly and communication, creativity, exchange and activism beyond barriers of age, origin, education, social and financial status.
COMMON: Freecycle

Freecycle group is a web – based group, open to all who want to donate or request objects for free. It works locally at a global level (each city in every country forms a new individual network). Against the perpetual procedure of consuming and disposal, which results in aggregation of several tons of used materials, the group suggests donation and recycling.
COMMON: Language

Language like affects and gestures, is for the most part common, and indeed if language were made either private or public — that is, if large portions of our words, phrases, or parts of speech were subject to private ownership or public authority — than language would lose its powers of expression, creativity, and communication. M. Hardt, A. Negri, Commonwealth
Credits:
Concept, workshop and project development:
José Pérez de Lama and Pablo de Soto (Hackitectura) in collaboration with Jaime Díez and Carla Boserman
With the support of cartografiaciudadana.net
Workshop team: Efi Avrami, Elena Antonopoulou, Maya Bontzou, Dimitris Delinikolas, Eleni Giannari, Aliki Gkika, Anastasia Gravani, Alexis Hatzigianis, Dimitris Hatzopoulos, Melina Flippou, Zaharias Ioannidis, Angela Kouveli, Veroniki Korakidou, Daphne Lada, Olga Lafazani, Natalie Michailidou, Yiannis Orfanos, Stratis Papastratis, Maria Dimitra Papoulia, Yorgos Pasisis, Carolin Philipp, Maria Pitsiladi, Manos Saratsis, Athina Staurides, Iouliani Theona, Eleana Tsoukia, Sonia Tzimopoulou, Antonis Tzortzis, Dimitris Psychogios
Scientific Advisors: Nelli Kabouri (Political Sciences, Panteion University), Dimitris Papalexopoulos (Architect, Associate Professor NTUA), Dimitris Parsanoglou (Sociologist, Panteion University), Dimitris Charitos (Assistant Professor, Department of Communication and Mass Media, University of Athens)
Curated by: Daphne Dragona
Special thanks to: Yorgos Konstantinidis, Errands, Pavlos Hatzopoulos, Kostas Karabelas, Ilias Marmaras, Yorgos Papanikolaou, Tasos Sagris / Void Network, Prodromos Tsiavos
The work Mapping the Commons, Athens by Hackitectura is realized in the framework of the series EMST Commissions 2010 at the Project Room of the museum, with the kind support of Bombay Sapphire gin.