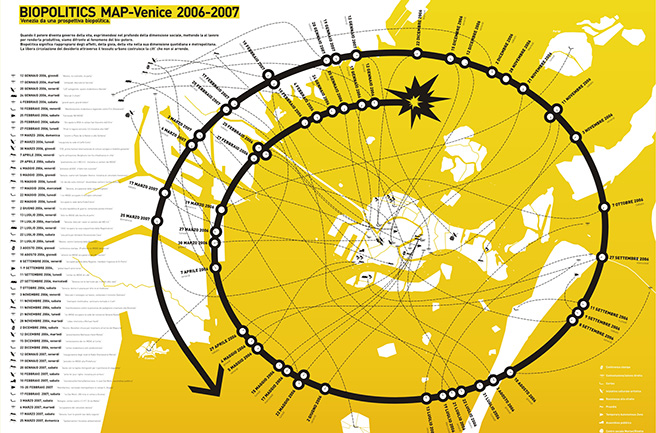 Venecia Biopolítica
Biopolitcs Map Venice was the result of the Laboratorio di Cartografia Partecipata – Partecipated Cartography Workshop organized by Marco Baravalle and the Laboratorio Morion (Venice) in collaboration with Hackitectura.net and Jaume nualart..
The aim of the workshop was the production of a series of biopolitic cartographies of the city both on the local (Venice-Mestre-Marghera) and global level.
The map documented the activist actions across town during the years 2006-2007.
Hi everyone, finally the workshop started yesterday afternoon, our first session was all right but we were just five people. I'm confident many more will join us in the next future, probably it's just a matter of changing our time table, anyway, we will fix it.
What follow are some theoretical notes I wrote to introduct the topic of workoshop. Basically I started with a historical introduction about arists/activists who began using cartography as a tool to inquiry and even intervene on reality. From meeting number three I will focus more specifically on the topic of the city. All the material comes from a three sessions seminar organized by Uninomade (one meeting happend at Bevilacqua during Dis-Orders). The seminar tried to deal with the complicated topic of the metropolis; philosophers, activists, urbanists were invited, among them: Giorgio Agamben, Toni Negri, Stefano Boeri, Judith Revel, Giairo Daghini, Massimo Cacciari.
The audio of the whole seminar (and information about it) is completly downlodable atwww.globalproject.info.